Upgrade to JBuilder 2007, Get Instantiations Swing Designer, FREE!
Instantiations Swing Designer
brings back the ease-of-use for visual GUI building, and makes it easy to migrate design projects from earlier versions of
JBuilder
to
JBuilder 2007
. With
Instantiations Swing Designer
you can create complicated UI's in a fraction of the time it would take if you had to code it by hand. You can add controls using drag-and-drop, add event handlers to your controls, change various properties of controls using a property editor, and much more. And the best part is, your visual design and the corresponding Java code remain in 100% synchronization at all times. Even if you decide to edit the code directly, the changes are immediately reflected back into the design.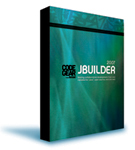 Now is the time to upgrade to JBuilder 2007 - the open, fully supported, Eclipse-based Java IDE for enterprise developers.
Offer ends March 26, 2008. Call 1-888-233-2224
[Tell me more]
[Ask a question]